Hepatocyte medium for upcyte® and primary cells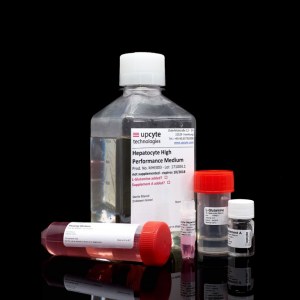 We have developed a variety of media for the expansion, culture and endpoint measurement of the upcyte® cells.
For the usage of our upcyte® cells in different applications, we recommend the use of the cell-specific media. A protocol for use will be included in each delivery.
If you do have special wishes or concerns in regard to the media composition, do not hesitate to contact us!
Hepatocyte/LSECs Thawing Medium (50 mL)
Use this medium to thaw cryopreserved human upcyte® hepatocytes and LSECs. It is supplemented with 10% FBS.
Hepatocyte High Performance Medium (500 mL)
This is a serum free medium especially designed for the optimal culture e.g. 3D assays and transporter function. Are you working in e.g. clearance and are you concerned about protrein binding? Talk to us. The medium can also be applied for endpoint determination of human primary hepatocytes.
Hepatocyte/LSECs Co-Culture Medium (500 mL)
Do you want to perform co-cultures with hepatocytes and LSECs? This medium contains the best of the Hepatocyte High Performance Medium as well as the LSECs Culture Medium.