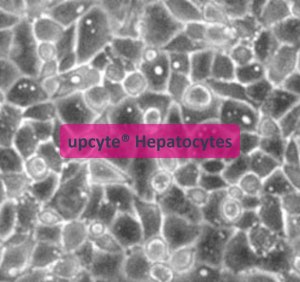 Hepatocytes
Liver toxicity represents a major cause of adverse effects and drug withdrawal. To efficiently predict the safety profile of a drug candidate, there is a constant need for reliable preclinical test systems. While primary human hepatocytes (pHH) remain the gold standard for prediction of drug responses, restricted availability and rapid loss of the hepatic phenotype limit their use.
Human upcyte hepatocytes are expanded primary cells, derived from single donor primary cells. Compared to immortal cancer cell lines such as HepaRG cells, upcyte hepatocytes show stable phase 1 and phase 2 enzymatic and transporter activity. Lots are available from several donors, and the cells retain the characteristics of those donors.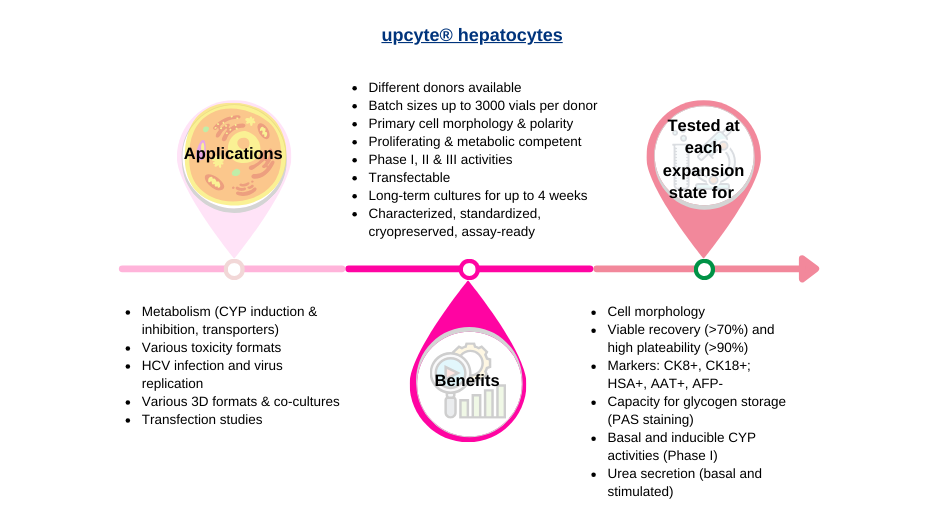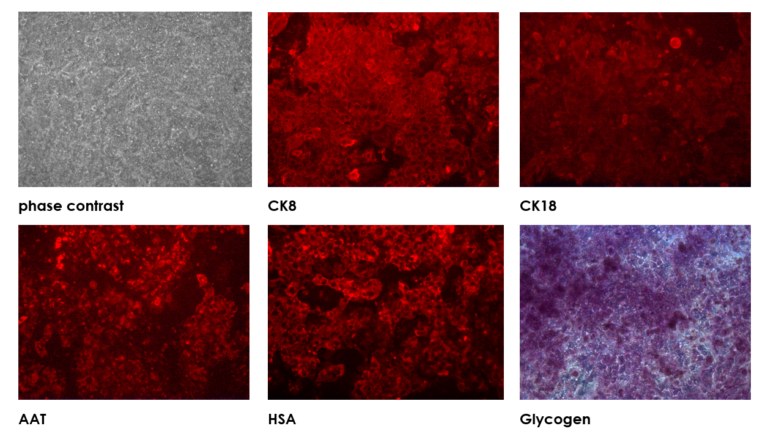 List of Products:
| | | | | |
| --- | --- | --- | --- | --- |
| Cat# | | Description | | Cond. |
| CHE002 | | upcyte® Hepatocytes - expanded primary cells | | 5millioncells/vial |
| CHE001 | | upcyte® Hepatocytes for Genotox - expanded primary cells | | 1millioncells/vial |
| CHE004 | | CYP2D6 competent upcyte® Hepatocytes - expanded primary cells | | 5millioncells/vial |
For the usage of our upcyte® cells in different applications, we recommend the use of cell-specific media. A protocol for use will be included in each delivery :
Hepatocyte/LSECs Thawing Medium
Hepatocyte High-Performance Medium
Hepatocyte/LSECs Co-Culture Medium
NEED MORE INFO & DATA?
upcyte® hepatocytes are provided in 2 ml cryo-vials with a minimum of 5×106 frozen cells per vial and are ready-to-use. Our cryopreserved upcyte® hepatocytes are at a later state in proliferation terms. Further expansion will lead to the cells expressing senescence genes and the phenotype is lost.
To choose the most suitable donor (LOT#) for your specific application, please write an email to info@upcyte.com.
If you need any help – be it theoretical or practical – our specialists are happy to help and demonstrate in your lab the handling of upcyte® hepatocytes.
Material safety data sheet: upcyte cells
Protocol for use : upcyte Heparocytes
Risk assessment for upcte cells
List of headings :